"It's the Housewives!" is the story of three young moms who get their
humble start at the P.T.A. talent show, then go on to "clean up"
as the most celebrated, yet unlikely, girl group in rock 'n' roll history.
With a book by Hope Juber and Ellen Guylas and the hilarious songs of the 80's comedic pop group The Housewives, such as 'In Sink And At Your Disposal,' 'Ironing Bored' and 'I've Been Defrosting All Day' - by composer/lyricist Hope Juber and her husband,two-time Grammy winning guitarist Laurence Juber (from Paul McCartney's Wings), get ready for the Divas of Domesticity!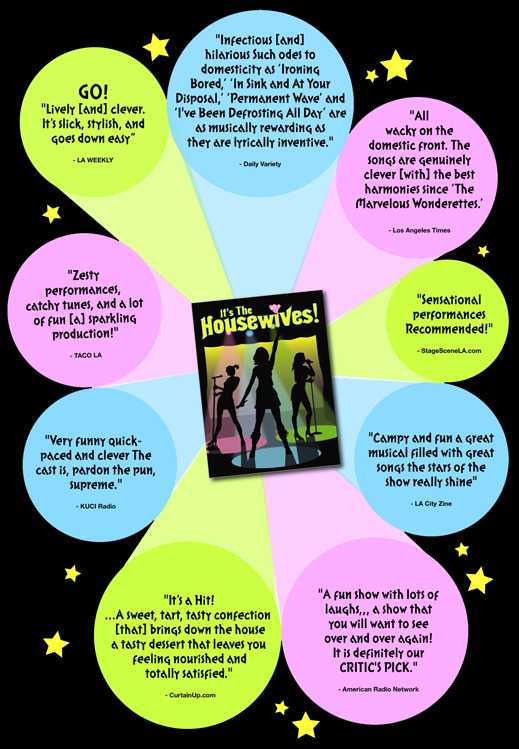 A Critical Moment by Brad Schreiber (2009)
The Housewife as Show Biz Goddess
[Corinne Dekker, Jayme Lake, Jamey Hood, a.k.a. The Housewives]
The skill of the Jubers is incontestable. He played lead guitar for Paul McCartney's Wings and has 14 CDs of his own. She directs and writes with the comedic instincts one would expect, as the daughter of TV's Sherwood Schwartz (Gilligan's Island, The Brady Bunch.) And what could have seemed like an obvious and straightforward take on the fantasy life of some average housewives really becomes something big. Because the hit group The Housewives has broken up and ex-star Becca (Jamey Hood) tells her plumber (Tony Cicchetti), who recognizes her, the story of her band's breakup; we are treated to dead-on song style parodies that the Jubers have totally down.
They include the scorching blues number "Ironing Bored," the self-explanatory "The Reynold's Rap," and, when The Housewives were in their New Wave mode, the completely uproarious "Domestiphobia," with delightful, goofy, robotic choreography, courtesy of Kay Cole. Ms. Juber, with Ellen Guylas, has fashioned a book far cleverer than one might expect. The inevitable reunion concert is a satirical take on musical groups who break up and are forced to tour again. In this case, conniving Lynn (Corinne Dekker) and ditzy Lexie (Jayme Lake) make up with Becca onstage, after resolving the source of their disruption, namely who makes the best guacamole.
The three femme leads all blend voices smoothly and Hood, especially and appropriately, has a knockout voice and can really sell a song with her physicality. In fact, the Jubers manage not only a glossy, fun musical but something that will come as a surprise to men and women alike: the ability to wring sexual innuendo from moments as simple as taking off an oven mitt.